Practical Pool Management Plus
Why not take the pool operator course from the professionals who wrote the book?!
This program is specifically designed to meet or exceed pool operator training requirements for all 50 states and includes information on international standards for public pool operations.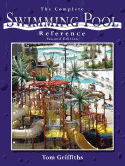 Practical Pool Management Plus
is designed for anyone operating a public or semi-public pool or waterpark facility including aquatic directors, pool maintenance staff, hotel/motel staff, and others in the "pool business."
This
state-of-the-art
program incorporates multimedia technologies to enhance the learning process.
Developed and taught by the author and editor
of
The Complete Swimming Pool Reference
(2nd Edition), Practical Pool Management Plus moves beyond traditional calculations and mathematics to provide the pool operator or manager not only the basics of pool operations but also a comprehensive look at managing an aquatic facility.
Participants who need certification to meet local (or state) health code requirements are eligible to take the PPM examination. Those who pass the written exam with a minimum score of 70% will receive a certificate suitable for framing and will be entered into a database of pool managers certified through Aquatic Safety Research Group. Certification must be renewed every five years.
Download the Practical Pool Management Plus flyer.
Key Topics
Pumps, Pipes, Outlets
Sand, D.E., Cartridge
Backwashing
Water Chemistry - A look at Disinfection and Sanitization: Chlorine, pH, Alt. Sanitizers
Breakpoint and Superchlorination
Water Balance
Controllers
Chemical Adjustments
Spas and Special-Use Pools
Design Considerations
Risk Management
Chemical Handling and Safety Precautions
Additional Topics Include:
Legal Liability for Pool Managers
Management by Accountability (5/30)
Head-First Entries
Pool Signage
Body, Hair and Limb Entrapment
Lifeguard Attentiveness
Routine Operations: Daily, Weekly, Monthly
Americans with Disabilities Act
Common Problems and Solutions
and more!
Recognized by
Alaska Dept. of Environmental Control, Division of Environmental Health
Arkansas Dept. of Health
Connecticut Department of Public Health
Delaware Dept. of Health & Social Services, Division of Public Health
Idaho Dept. of Health & Welfare
Maryland Dept. of Health & Mental Hygiene
Massachusetts Dept. of Public Health, Div. of Community Sanitation
Nebraska Dept. Health & Human Services
North Carolina Dept. of Environment and Natural Resources, Div. of Environ. Health
Pennsylvania Dept. of Agriculture (3 Core Credits and 6 Category 18 & 24 Credits)
South Carolina Dept. of Health and Environmental Control
Texas Dept. of Health, General Sanitation Division
For a complete listing of states that recognize our PPM+, take a look here.
Contact us for details!
Hosting a PPM+ Program
For information on hosting a Practical Pool Management Plus workshop in your area, contact Aquatic Safety Research Group today! At the current time, classes are only scheduled at the request of a host facility. Host facilities are asked to provide a training location and help with media releases and promotion in the local area.

We are also able to work with your state's health department to have PPM+ approved as a program which meets or exceeds training programs such as the Certified Pool Operator course offered through the National Swimming Pool Foundation and the Aquatic Facility Operator program offered by the National Recreation and Park Association.

To schedule a PPM+ course, go to DeRosa Aquatic Consulting.