Note & Float™: FREE Lifesaving Program for Aquatic Facilities
The Aquatic Safety Research Group is proud to release the FREE national Note & Float Campaign aimed at preventing drowning at aquatic facilities throughout the country. The program targets parents with children who cannot swim. The heart of the program is first identifying all non-swimmers who enter the facility, and then "floating" those swimmers with an appropriately sized lifejacket.



This vitally important and much needed program will prove to be a real lifesaver at pools and water parks around the country. The reason for the development and release of the Note & Float program is simple: too many non-swimmers are needlessly drowning at lifeguarded facilities and too much finger pointing is aimed at responsible parties. The implementation of the program is easy and should be accomplished in a timely fashion because:

As a Nation, we FAIL to teach ALL children to swim at early age.

Parents DO NOT SUPERVISE their children in the water actively, aggressively and in close proximity.

We fail to IDENTIFY and Educate non-swimmers about safe-swimming practices and we fail to Warn them of dangers inherent in the water.

Lifeguards CANNOT watch each and every child all the time.

Once a child submerges beneath the surface, the water quickly hides and suffocates. Drowning is quick, quiet and subtle.

We fail to FLOAT our non-swimmers on the surface so that they don't disappear underwater and drown.
This FREE and EASY program will make visiting aquatic facilities both SAFER and more ENJOYABLE.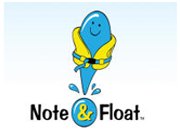 Download the customizable
Note & Float Rack Card.
The Note & Float rack card is designed so that you can customize the back side with facility-specific information.

Include information on swimming lessons or specialty programs, key safety rules, tips on sun safety, facility operational hours, or other content which you feel would be helpful at your facility.